COOKIES POLICY
The AEPD recommends that the policy of cookies is independent of the Legal Notice and Privacy Policy.
In compliance with Law 34/2002 of July 11, Services Information Society and Electronic Commerce we inform you that this website, like most websites, uses cookies to improve and optimize user experience. Below you will find detailed information on what are the «Cookies», what type you use this website, how to change your cookie settings, and what happens if you disable cookies.
What are Cookies?
A cookie is a small file that is downloaded to the user's computer in order to store data, which may be updated and retrieved by the entity responsible for its installation.
What kind of cookies used this site?
Below is a table with cookies used on this website:
Traductor de Google para empresas:Google Translator ToolkitTraductor de sitios webGlobal Market Finder

| Cookie | Duración | Descripción |
| --- | --- | --- |
| cookielawinfo-checkbox-advertisement | 1 year | Set by the GDPR Cookie Consent plugin, this cookie is used to record the user consent for the cookies in the "Advertisement" category . |
| cookielawinfo-checkbox-analytics | 1 year | Set by the GDPR Cookie Consent plugin, this cookie is used to record the user consent for the cookies in the "Analytics" category |
| cookielawinfo-checkbox-functional | 1 year | The cookie is set by GDPR cookie consent to record the user consent for the cookies in the category "Functional". |
| cookielawinfo-checkbox-necessary | 1 year | Set by the GDPR Cookie Consent plugin, this cookie is used to record the user consent for the cookies in the "Necessary" category |
| cookielawinfo-checkbox-others | 1year | This cookie is set by GDPR Cookie Consent plugin. The cookie is used to store the user consent for the cookies in the category "Others". |
| cookielawinfo-checkbox-performance | 1 year | Set by the GDPR Cookie Consent plugin, this cookie is used to store the user consent for cookies in the category "Performance". |
How you can set your cookies?
When browsing and continue on our website you are consenting to the use of cookies under the conditions contained in this Policy Cookies. You, the user has the possibility to exercise their right to lock, delete, and refuse the use of cookies at any time by changing your browser options
For example:
Internet Explorer: Tools> Internet Options> Privacy> Settings.
For more information, consult the Microsoft support or Help browser.
Mozilla Firefox: Tools> Options> Privacy> History> Custom Settings.
For more information, consult the Mozilla support or Help browser.
Google Chrome: Settings> Show Advanced Options> Privacy -> Content settings.
For more information, you can consult the Google support or Help browser.
Safari: Preferences> Security.
For more information, consult the Apple support or Help browser.
Opera: Settings> Options> Advanced> Cookies
For more information, refer to the Opera support or Help browser.
If you use another browser than the above, refer to your policy installation, use and cookie blocking.
What if cookies are disabled?
Some features of the Services or areas of this site may not work properly.
We update our policy ¿Cookies?
We may update Cookies policy of our website therefore we recommend you review this policy whenever you visit our website in order to be properly informed about how and why we use cookies.
LEGAL NOTICE AND PRIVACY POLICY
OWNERSHIP
In compliance with article 10 of Law 34/2002 of July 11, Services Information Society and Electronic Commerce, noted that this page is the entity becomes: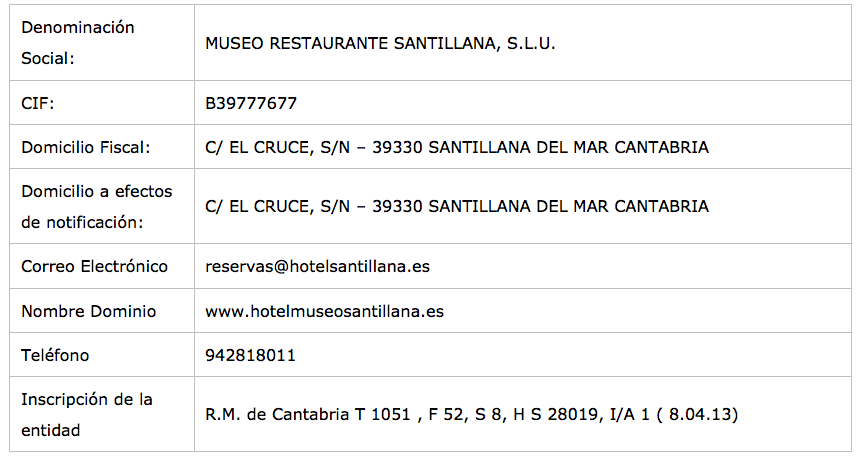 Date of last modification / updating this legal notice: 24/05/2016
PRIVACY POLICY DATA – LOPD
In accordance with the provisions of Law 15/1999, Protection of Personal Data (Act) and its implementing regulations, the manager of the website, in compliance with the provisions of art. 5 and 6 of the LOPD, inform all users of the website will provide or provide personal data, these will be incorporated into an automated file that is duly registered with the Spanish Data Protection Agency.
Users, by ticking the box, expressly and freely and unequivocally accept that their personal data is processed by the provider for the following purposes:
1. Sending of commercial communications advertising by e-mail, fax, SMS, MMS, social networks or any other electronic or physical, present or future, which enables commercial communication. These commercial communications will be related to products or services offered by the provider and by collaborators or parthners with which it had reached an agreement to promote trade among its customers. In this case, third parties will never have access to personal data. In any case the commercial communication shall be made by the provider and will be for products and related services provider sector.
2.- process orders, requests or any type of request is made by the user through any form of contact that is made available to the user on the website of the company.
3. Forward the newsletter on the website.
The provider expressly informs and assures users that their personal data will not be disclosed under any circumstances to third party companies, and always to go to any transfer of personal data made of prior, express consent be sought, informed, and unambiguous from the headlines.
All requested information through the website are mandatory, as are necessary to provide optimal service to the user. Should not provided all the data, the entity does not guarantee that the information and services provided are completely tailored to your needs.
The company ensures the user in any case the exercise of rights of access, rectification, cancellation, and opposition under the terms provided in the legislation. Therefore, in accordance with the provisions of Law 15/1999, Protection of Personal Data (LOPD) may exercise their rights by sending a specific request, along with a copy of your ID card through the following means:
1. E-Mail: reservas@hotelsantillana.es
2. Postal Mail: C / El Cruce, S / N – 39330 Santillana Cantabria
Similarly, the user can unsubscribe from any of the subscription services provided by following the instructions for this purpose included with all emails sent by the entity.
Similarly, the entity has adopted all technical and organizational measures to ensure the security and integrity of personal data that addresses measures and to prevent loss, alteration and / or access by unauthorized third parties.
USERS
Access and / or use of this portal SANTILLANA MUSEUM RESTAURANT, S.L.U. He attributes the condition of USER, who accepts, from such access and / or use, the General Conditions of Use listed here. The above conditions apply regardless of the General Terms and Conditions in their case be enforceable.
USE OF THE PORTAL
www.hotelmuseosantillana.es provides access to a multitude of information, services, programs or data (hereinafter «content») on the Internet from SANTILLANA MUSEUM RESTAURANT, S.L.U. or its licensors to which the user can access. The user assumes responsibility for the use of the portal. This responsibility extends to the record necessary to access certain services or content. The record the USER will be responsible for providing true and lawful information. As a result of this registration, the USER can provide a password that will be responsible, pledging to make diligent and confidential use of it. The user undertakes to make appropriate use of content and services SANTILLANA MUSEUM RESTAURANT, S.L.U. can offer through its portal and with limited but not limited to, refraining from (i) engaging in illegal activities, illegal or contrary to good faith and public order; (Ii) disseminate content or propaganda of racist, xenophobic, pornographic, illegal, apology of terrorism or against human rights; (Iii) cause damage, SLU, its suppliers or third parties, introducing or spreading computer viruses or any other physical or logical systems that are capable of causing physical and logical systems MUSEUM SANTILLANA RESTAURANT the aforementioned damage ; (Iv) attempting to access and, where appropriate, use the email accounts of other users and modify or manipulate their messages. SANTILLANA MUSEUM RESTAURANT, S.L.U. reserves the right to remove any comments and contributions that violate the respect for human dignity, which are discriminatory, xenophobic, racist, pornographic, that threaten youth or childhood, order or public safety or, in his opinion, are not suitable for publication. In any case, SANTILLANA MUSEUM RESTAURANT, S.L.U. You are not responsible for the opinions expressed by users through forums, chat rooms or other participation tools.
INTELLECTUAL PROPERTY
SANTILLANA MUSEUM RESTAURANT, S.L.U. by itself or as an assignee, it owns all rights to intellectual its website property as well as the elements contained therein (not limited to, images, sound, audio, video, software or texts, trademarks or logos, color combinations, structure and design, selection of materials, computer programs necessary for its operation, access and use, etc.), owned by SANTILLANA MUSEUM RESTAURANT, SLU or its licensors. All rights reserved. Under the provisions of Articles 8 and 32.1, second paragraph, of the Copyright Act are expressly prohibited reproduction, distribution and public communication, including any means of making available all or part of the contents of this website for commercial purposes, in any form or by any technical means, without the permission of Museum Restaurant SANTILLANA, SLU. the user undertakes to respect the rights of intellectual and industrial property ownership MUSEUM RESTAURANT SANTILLANA, SLU. You can view the portal elements and even print, copy and store them on the hard drive of your computer or any other hardware provided is solely and exclusively, support for personal and private use. The user must not remove, alter, evade or manipulate any protection device or security system that was installed on the pages SANTILLANA MUSEUM RESTAURANT, S.L.U .
IP ADDRESSES
The web site servers can automatically detect the IP address and domain name used by the user. An IP address is a number automatically assigned to a computer when it connects to the Internet. All this information is recorded in an activity file duly registered server that allows the subsequent processing of data in order to obtain statistical measurements that reveal the number of page impressions, the number of visits to Web services only, the order of visits, access point, etc.
EXCLUSION OF GUARANTEES AND RESPONSIBILITY
SANTILLANA MUSEUM RESTAURANT, S.L.U. is not liable under any circumstances for damages of any kind which may cause, but not limited to errors or omissions in the content, lack of availability of the portal or transmission of viruses or malicious or harmful programs in the contents despite having taken all the necessary technological measures to prevent it.
MODIFICATIONS
SANTILLANA MUSEUM RESTAURANT, S.L.U. It reserves the right to make unannounced changes it deems appropriate in its website, may change, delete or add content and services provided through the same as the way in which they are presented or located on the portal.
LINKS
In the event that www.hotelmuseosantillana.es links or hyperlinks to other Internet sites, MUSEUM RESTAURANT SANTILLANA, S.L.U. not exercise any control over such sites and content. In any case SANTILLANA MUSEUM RESTAURANT, S.L.U. assume any responsibility for the contents of any link belonging to another website, nor guarantee the technical availability, quality, reliability, accuracy, comprehensiveness, accuracy, validity and constitutionality of any material or information contained in any such links or other sites Internet. Also the inclusion of these external connections will not imply any association, merger or partnership with the entities connected.
RIGHT OF EXCLUSION
SANTILLANA MUSEUM RESTAURANT, S.L.U. It reserves the right to deny or withdraw access to the portal and / or services offered without notice, on its own or a third party, to those users who violate these Terms of Use.
GENERAL
SANTILLANA MUSEUM RESTAURANT, S.L.U. will pursue the breach of these conditions and any misuse of its website, exercising all civil and criminal actions that can by law.
MODIFICATION OF THESE CONDITIONS AND DURATION
SANTILLANA MUSEUM RESTAURANT, S.L.U. you can modify at any time the conditions specified here, duly publicized herein. The validity of these conditions will be according to their exposure and are valid until they are modified by other duly published.
SECURITY
The site uses security techniques generally accepted in the information industry, such as firewalls, access control procedures and cryptographic mechanisms, all in order to prevent unauthorized access to data. To achieve these ends, the user / customer agrees that the provider to obtain data for purposes of authentication for access control.
All hiring process or involves the introduction of personal data of high character (health, ideology, …) are always transmitted via secure communication protocol (https: // …), so that no third party has access to information transmitted electronically.
APPLICABLE LAW AND JURISDICTION
The relationship between SANTILLANA MUSEUM RESTAURANT, S.L.U. and the USER by Spanish legislation shall be governed and any dispute shall be submitted to the Courts concerned.